We encourage our students to work with private instructors when possible. Individual instruction focuses on perfecting technique, tone, and musicality, and prepares students to succeed as they play more challenging music in higher level ensembles. We are fortunate in our district to have many qualified and talented instructors.
Lynn Han – Flute
Lynn Han recently graduated with a Masters in Music in flute performance, at Northwestern University, and received her Bachelors of Music at the University of North Texas in 2015.
Contact Info: wheelin@naver.com
Nami Kimura – Flute
Nami Kimura was born in Kyoto, Japan. She received her Bachelor of Music from the Kyoto City University of Arts. She also studied with Trevor Wye at "The Studio" in England for two years. Currently a resident of College Station, Texas. She is a member of nemeaWinds, the Brazos Valley Symphony Orchestra and the Brazos Breeze Flute Choir.  She held her own flute summer camp in 2017.
Contact Info: namikk17@aol.com
Rachel Markham – Flute
Rachel Markham has been playing flute for almost 25 years.  She enjoys playing in the church orchestra and any other opportunities she gets but her passion is to teach others how to play the flute.  She not only teaches her students how to play but also teaches music theory so the students get an even better understanding of music. I work alongside the directors so what I am teaching them lines up with what they are doing at school. Please email me or call with any questions or if you are interested in setting up a lesson.
Contact Info: 979-324-9973 or coleandrachel@gmail.com
Sophia Ann Ramirez – Flute
Sophia is from Brownsville, TX. She was a 2 year member of the All State band and a member of the region Honor band for 4 years. While  in high school, her flute teacher gave her opportunities to work closely with students at the middle school she attended and was able to give them lessons on their region etudes. Upon graduating high school, her former flute teacher also gave her opportunities to help the high school students on their All state audition pieces. She has experience in teaching in the middle school and high school level. She is currently a sophomore psychology major and 1st chair in the university Wind Ensemble.
Contact Info: 956-336-1906 or s1901029@tamu.edu or sophia.ramirez43@yahoo.com
Elizabeth Steel – Oboe
Elizabeth Steel completed a Master of Music degree in Oboe Performance from the University of North Texas in 1995 where she studied with Charles Veazey and a Bachelor of Music degree in Oboe Performance from Southern Methodist University in 1993 where she studied with Eric Barr, formerly Principal Oboist of the Dallas Symphony.
While at UNT, Elizabeth held the position of Teaching Fellow in Oboe for 3 ½ years, where she taught oboe and reed making lessons and rehearsed small ensembles.She was the oboist for the Teaching Fellows Wind Quintet and competed in the Fischoff National Chamber Music Competition in South Bend, Indiana. Ms. Steel has also performed at Master Classes for John Mack at SMU in 1992 and again in Carmel, CA at the Hidden Valley Music Seminars in 1996.
For the 1995 and 1996 concert seasons, Elizabeth played 2nd chair oboe and English horn with the Shreveport Symphony Orchestra while completing 30 hours of coursework towards a Doctor of Musical Arts Degree in Oboe Performance at UNT. Since 1997, Elizabeth has taught lessons and played as a freelance oboist in Chicago, Los Angeles, Dallas and New Jersey, including performances with regional symphonies, chamber ensembles and for film recordings.
Ms. Steel can teach grades 6 – 12.
Contact Info: 817-343-9660 and 1elizabethsteel@gmail.com
Marla Goodwin – Woodwind
Marla Goodwin is a Professional Woodwind Doubler and Intermediate Music Teacher in College Station. Marla completed her Bachelor of Science in Music Education and Texas A&M University-Commerce in 2009. She has been living, teaching, and performing in the BCS area for 6 years. She has performed at many places in town including The Theatre Company, local restaurants and churches, and for the OPAS concert "Phantoms of the Opera" by Neil Berg. Marla specializes in woodwind instruments, especially clarinet, oboe, and saxophone and has taught private lessons on those instruments for 10 years. Marla has studied with professional oboists Ceci Lagarenne and Dr. John Goodall, both of whom were students of John Mack. She has also had the privilege of studying with professional clarinetists Dr. Mary Druhan and Dr. Christopher Ayer.
Contact Info: 903-456-8718 or mgoodwin@csisd.org
Christina Shipley – Clarinet
Christina is a College Station native and a Texas A&M graduate, class of 2012. She started playing the clarinet when she was eleven years old, and she continued to play throughout her college career. She earned an associates degree in clarinet performance in 2008 and has been teaching private lessons for four years. Outside of teaching, Christina enjoys horseback riding, fishing, and spending time with family. She is also involved in her church and trains dogs for Canines for Christ, an animal-assisted therapy ministry.
Rates would be $15/half hour, $20/40 minutes, or $30/hour. Lesson length would depend on the student. I prefer 40 minute and 1 hour lengths because it gives me freedom to explain things thoroughly without running out of time.
Contact Info: 979-571-0763 or cshipley.tamu2012@gmail.com
Linda Cavazos
Contact Info: 956-572-5235 or cavazos_linda@hotmail.com
Joseph Daigle – Bassoon
Joseph Daigle attained a Bachelor of Music in Bassoon Performance from Southeastern Louisiana University and a Master of Music in Orchestral Conducting and Bassoon Performance from Oklahoma State University. As a student, Joe was always a primary player for major university ensembles and had many compositions performed. He served as orchestral assistant and conducted new music and chamber concerts. At Southeastern Louisiana University he taught Applied Bassoon, Double Reed Methods, and Introduction to Music while assisting with the orchestra and chamber music program. Joe has coached, conducted, and performed with numerous ensembles including symphony orchestras, wind quintet, and large chamber groups. He currently lives and teaches in College Station, TX.
Contact Info: jsphdgl@gmail.com
Eric Miller
Contact Info: estonemiller@gmail.com or (936) 661-9994
Daniel Byrd – Saxophone
Daniel Byrd is a senior at Texas A&M University and has been in their Wind Symphony for five years now. For the past two years he has been 1st chair on the alto saxophone and has also had several features on the soprano saxophone. This past year, Daniel was given the opportunity to perform at TMEA with the A&M Wind Symphony and was the soprano soloist at that concert. He graduated from C. F. Brewer High School in 2011 and was first chair for three years there. While in high school he made second chair in the all-region competition and went on to get second chair at the all area competition. He also received several perfect scores at state solo and ensemble.
He started playing saxophone when he was in the 6th grade making this his 13th year playing. He has played in the jazz band where he mainly played tenor sax and clarinet. He also has played on stage for his church for ten years. In 2011 he went on to compete at a church competition for woodwind performance where he won first place for the state of Texas, and went on to win second place at nationals.
In the summer of 2010 Daniel was given the opportunity to travel Europe with other high school students that proved to be outstanding musicians. During this tour he went to 7 different countries including London, France, Germany, and Austria.
Contact Info: 817-395-2628 or daniel.byrd93@yahoo.com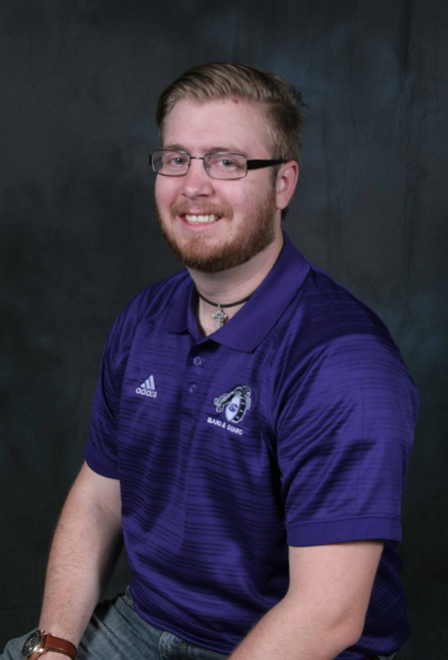 Brennan Lamont – Trumpet
Brennan Lamont is a professional trumpet player and an experienced teacher native to the College Station area. He completed his Bachelor of Music Education at Sam Houston State University in 2014. He has performed locally with groups such as The Theatre Company of Bryan where he has been the pit trumpet player for 7 years, as well as performing at many churches, weddings, and other ceremonies. Brennan has also performed in the TMEA convention numerous times, having been part of the featured Sam Houston State University Jazz Ensemble where he gave a concert as well as being part of a clinic demonstration group. He was also a member of the 2009 5A All-State Symphonic Band and the 2010 5A All-State Jazz Band. Brennan is a former student of Randall Adams and Steve Warkentin at Sam Houston both of whom studied under Vincent Cichowicz.
Contact Info: 979-575-8302 or Brennan.lamont@gmail.com
John McSpadden – Trumpet
John earned his Bachelor of Music Performance at Sam Houston State University in 1976. He served in several orchestras: Principal trumpet, Brazos Symphony, 1983 – present; Contract trumpet, Waco Symphony (2001 – present); Assistant principal trumpet, Richardson Symphony, 1978-1981; Principal trumpet, Garland Symphony, 1979-1981; University of North Texas Symphony, 1978-1979; and Apprentice to the Principal trumpet, Austin Symphony, 1963-1964. He has played in the Brazos Brass Quintet since 1985, and has had free-lance commercial experience in Houston, New York and Dallas since 1966. He was winner of the Midland-Odessa Young Artists Competition in 1967; and TMEA All-State Band in 1964. McSpadden is a member of the following professional organizations: Phi Mu Alpha Sinfonia, Texas Music Educators Association, Texas Bandmasters association, and American Federation of Musicians.
Mr. McSpadden teaches grades 6-12
Contact Info: 979-696-2802 or betsandjohn@suddenlink.net
Milton Catalina – Low Brass
My name is Milton Catalina. After 41 years of teaching Band in La Porte, Texas, I retired in May, 2007, at which time my wife and I moved to College Station. As a trombone major, my Bachelor of Music Education Degree is from Sam Houston University with a Masters of Music from the University of Houston. During the 41 years in the La Porte ISD, thirteen were as head high school director, and twenty-eight in junior high and middle school. The last ten years were spent teaching beginners at a 6th grade campus where two teachers taught approximately 200 students daily in mostly homogeneous classes. My wish had always been to retire while still enjoying teaching. I was able to fulfill this wish last May and I look forward to continue enjoying teaching privately.
Mr. Catalina teaches grades 6-12
Contact Info: 979-694-5165 or bcat@mac.com
Aaron Schaefer – Low Brass
Hello, my name is Aaron Schaefer. I am a graduate of Henderson State University where I earned my Bachelor of Science in Music Education. My collegiate career studies focused on professional-level performance in tuba and baritone until my final year at HSU when I witnessed how rewarding teaching children the universal language of music can be. A few of my experiences include: performing with the Little Rock Wind Symphony, providing regular lessons to local students, winning a solo concerto competition, and placing first in several intercollegiate bands. Since graduating I have entered into an apprenticeship with a local instrument repair shop and am building experience and knowledge within the world of music.
Philip Zeig – Percussion
Want help with:
– Technique
– Reading notes or rhythm
– All Region
– Solo and Ensemble
– Any up coming Auditions
        * College
        * All drumline
        * DCI, WGI
– Even Marching and movement
Just $20/hour
Contact Info: 979-450-4957 or phil.zeig6@gmail.com